City Beach Club is an open-air club on the roof of a shopping mall in Kyiv's city center, positioning itself as 'the first public swimming pool' and 'the beach number #1'. The rainy season 2018 was not kind to the place, plus, the club project on the 6th year of its life circle got sort of worn-out and in a creative crisis. Marketing communication was mostly about hot girls in bikini and… hot girls in bikini. We were invited to animate it a bit and make it more creative, preparing the ground for renovation before the next season.
We started with buying 500 rubber ducks announcing The 9 1/2 Weeks Campaign—time remained till the end of the season—and that this time will be dedicated to the search of a new identity. So, get ready—there can happen weird things and activities during that time. After that fair warning we were free to experiment in attempts to find the right strings in the heart of bored audience.
Then we announced The Backstage Morning Party — a shooting session, where guests could become witnesses and participants. Then we announced a casting and shot a few funny videos.
THE KILLING SUMMER
This ironic video is a pure, as a swimming pool's water, joke. Black one, although. It's starring a pretty woman in red, because beautiful girls in bikini are the project's eternal value. Also it's starring the owner of City Beach Club Max Radutsky, who is known by his direct non-formal communications with the club's community on social media, where he used to make jokes about the bad rainy season, killing his business. Here is our interpretation of this joke. No Max was harmed during the making of this video.
INTELLIGENCE IS SEXY
This video is an attempt of self-irony and alternative values communication. City Beach Club has a reputation of a fashionable, frivolous place with the audience whose main interests are money, fame, sex, glamour. We wanted to make fun break this pattern and show that smart entertainment is not alien to our audience too (well, and make fun, of course). Random guests of the club, taking part in the shooting session, looked very naturally and genuinely interested in the process. Hope they truly enjoyed it.
'People hanging at City Beach Club know the value of a great image and constantly work on it — in a gym, at the pool, at cosmetologists' cabinets. We also believe that image is everything. In order to be number 1 you ought to be both smart and beautiful, because, well, what image could be without intelligence, imagination and humor? In this video, shot in a single take, the entire City Beach Club's team, along with their daring and easy-going guests, give the simple, but effective lesson in image-building. Intelligence is sexy! '
SIZE MATTERS
This video is also a joke on the subject of a tacit beauty contest that a public beach always implies. Everyone wants to create the best impression. Glossy bodies, impressive body parts—big ambitions, in a word.)
Backstage
Saturday Sequel party posters
Saturday Sequel DJ posters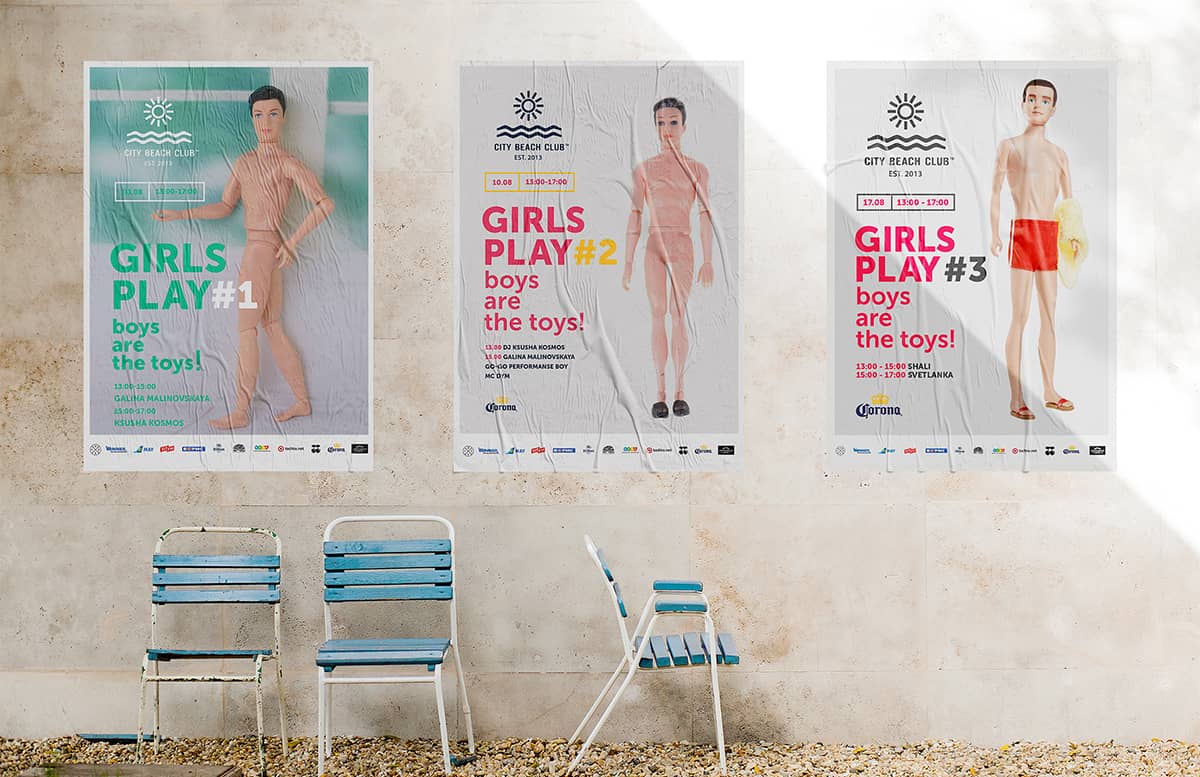 Female DJs parties' posters
Stickers-flyers
Facebook header