II Summit On Mars was a 3-day conference dedicated to festival events, advanced marketing and social technologies. It was taking place at the territory of Kazantip traditionally called Mars, with the participation of international speakers well known in the industry—owners of music festivals, awards, publishing labels; representatives of major companies and media.
Logo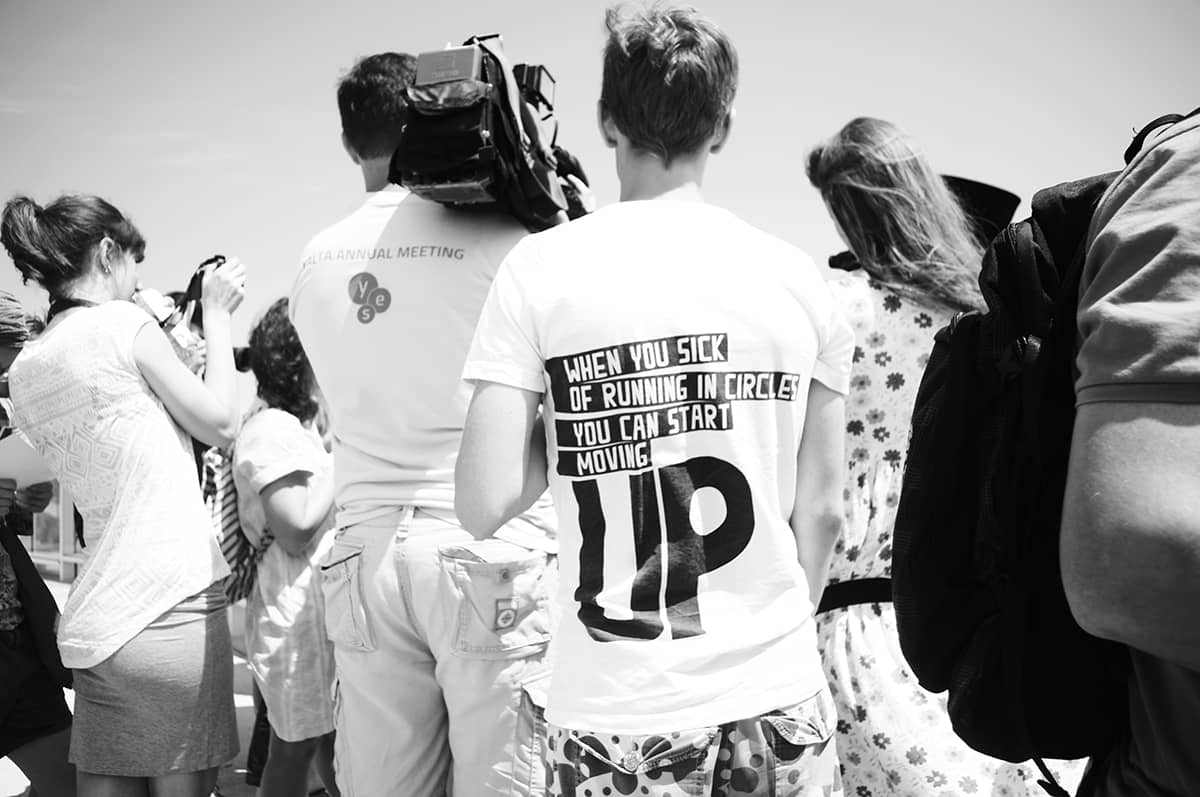 Merchandising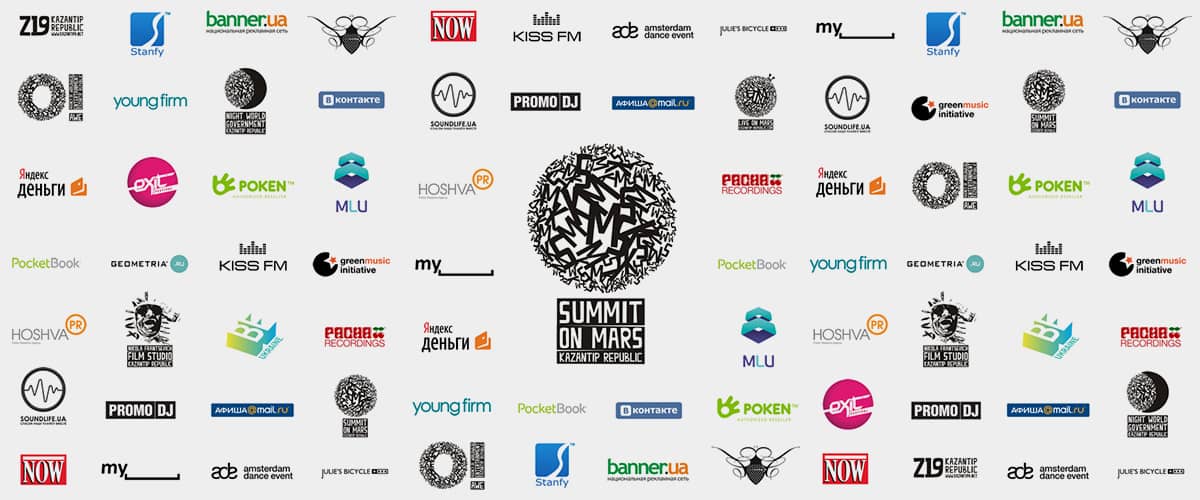 Press wall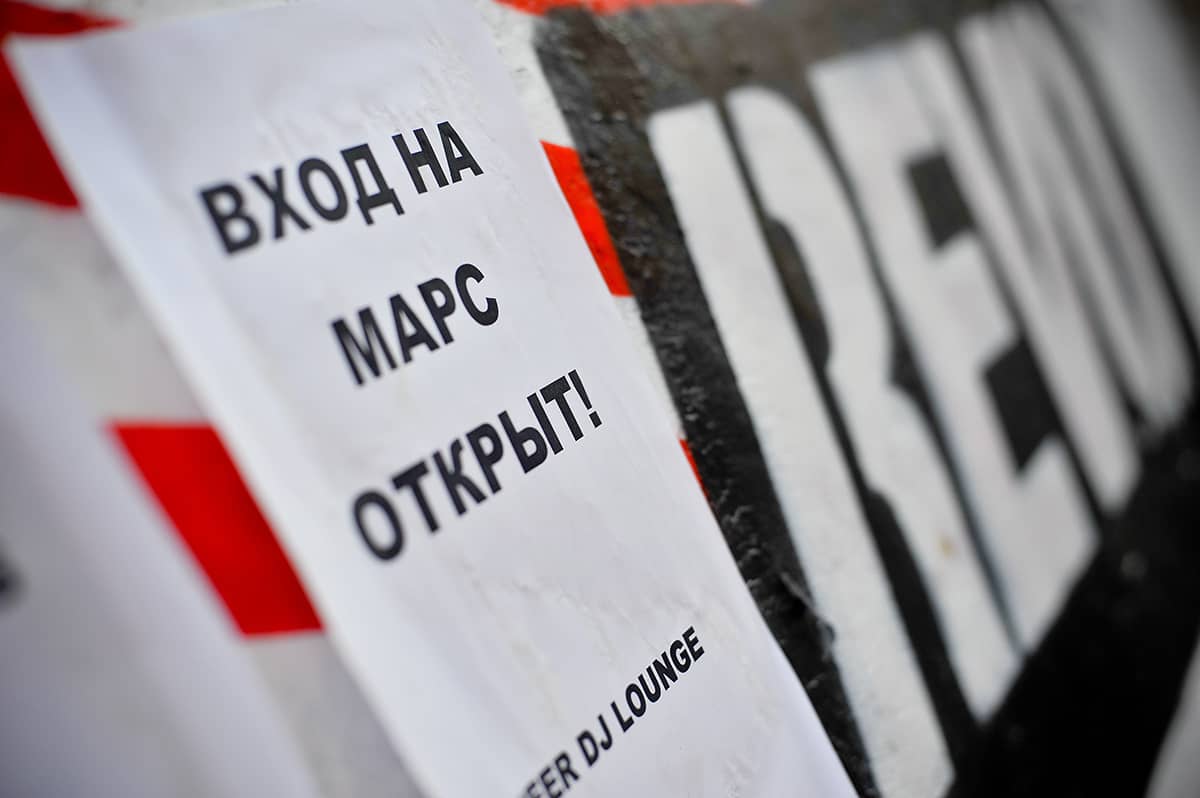 II Summit On Mars. August 11-14, 2011
The Second Kazantipian Summit on Mars is dedicated to going beyond the usual limits into the open space of experiments, which, generally, is equal to the exploration of other planets. This serious in nature and not serious in format high-level meeting will be attended by the leaders of the music business, trendsetters in communication and Internet technology, and reps of the most ambitious and exciting events of the planet. We deliberately don't limit the Martian Summit to any genre – what limitations, indeed, could be in open deep space?
We invite all participants and guests of the Summit to join the 4-days spacewalk from the narrow professional sphere to the shared space of ideas with the ability to look at everything a bit form the side and top, from where, as you know, 'everything you've done scales down'. However, it gives excellent prospects.
Summit speakers
Exit Festival (Serbia)  //Green Music Initiative (DE) // Myspace Music (RU)  // VKontakte (RU) // Young Firm // Darling Department (UK) // Hoshva PR (UA) // Clemens Gnaedinger Booking (DE) // Global Publicity (UK) // Stanfy (US) // Poken (UA) // Pioneer PRO (UA) // Beatport (RU) // Mixcloud (RU) // PromoDJ (RU) // Cocoon Recordings (DE) // Pacha Records (Spain)  // Yandex.Music (RU) / Yandex.Деньги (RU) // Afisha.mail.ru (RU)  // Soundlife // Geometria (RU) // Frantzevich Film Studio (RU) // Kiss FM Ukraine // // NOW Magazine (UK)
Oh, by and the way, you can leave your business cards at home – POKEN company, one of the partners of the Summit, decides the communication issue in its own special way. The first 200 participants of the Summit will get POKEN-chips that will allow to get to know each other, share personal data and keep in touch with all social networks just by one chip-handshake.
Limited edition of toyish orders — signs of belonging to the secret Night World Government were handed to the most honoured figures of club industry
Credits:
Natasha Kto Nado — copywriting, PR and marketing communications, creative director, event producer.
Andrew Goshva — event producer, international and local PR, booking.
Mara Fauque — design, visual solutions, art directing.
Matthew Hoag, Yury Marychev — lineup, booking, music department.